Left Front Drive Shaft Discovery III Range Rover Sport I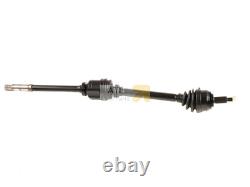 LEFT FRONT DRIVE SHAFT DISCOVERY III - RANGE ROVER SPORT I. 24-month or 60,000 km warranty. Description: LEFT FRONT DRIVE SHAFT DISCOVERY III - RANGE ROVER SPORT I.
ABS presence: ABS ON THE VEHICLE. Need help placing an order? Call us at 01 84 80 24 24. Valused is committed to a Circular Economy approach and encourages you not to dispose of your used parts, as they can be remanufactured. After ordering your product, you will need to pay the deposit (see amount above), which will be refunded if you return the used, dismantled product from your vehicle, following the instructions provided with the product. This payment will trigger the shipment of your product. Once received and validated by our technical services, you will be refunded. What is a remanufactured product? Also known as "Exchange Standard," it is a product refurbished by a certified industrialist, following these steps: recovery of products from repairers, testing and sorting of these products, cleaning of retained components, replacement of worn components with new ones, reassembly and testing on certified test benches.
What is the difference in quality compared to a new product? An Exchange Standard or Remanufactured product is of equivalent quality to a new product.
The manufacturing of this product is regulated by the most demanding ISO standards and, in some cases, even approved by the original manufacturer of the product. Quality, performance, and durability are identical to new, and you receive the same warranty as for a new product. Why choose a remanufactured product? Its environmental footprint is on average 80% lower than that of a new product (less energy consumed and fewer natural resources extracted).
And of course, the price, which is on average 50% lower than that of a new product.