Gd1340 Ebc Turbo Groove Brake Discs Rear (pair) Discovery Sports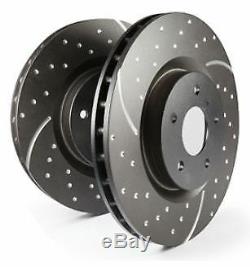 Gd1340 EBC turbo groove rear brake disks (pair) for discovery sport. This product sheet is originally written in English.
Please find below an automatic translation in French. If you have questions please contact us. Rear brake disks grooved gd1340 EBC turbo (pair) for land rover rover sport. Note 2: The number of bolt holes 5. Note 3: diameter (mm): 350.
Note4: total height (mm): 59. Note5: new / min thickness (mm): 20/17. Get the right part for the first time.
Please ensure you check the notes section in the left panel of compatibility. On most providers websites, there are now additional webcats so you can check your application with information displayed to ensure it is correct for the car - please consult the manufacturer's website too. If in doubt, please ask or contact customer services in commercial vendor information at the bottom of each ad.
Skate fast street dust average ebc with improved braking 20-25 %%. Capable of repeated use without heavy brakes \Features of damaging the disc / rotor very minimal. Superb material for Asian sport compact and lighter Europeans. Approved r ece 90 for most cars. Comprises a surface coating red \brake pads ceramic Redstuff.
Brake pads ceramic Redstuff, passenger car plate / sedan not made for truck equipment or suv. Ebc Quick carpet as dust with improved braking 20 to 25%. Superb material imports prestige / European and Asian cars. Brake pads Yellowstuff fastest street, trackday & drift racing. The high friction formula improves the braking effect of 30 to 40%. The fastest brake pads for street racing, drifting and track. Clearing no brakes makes it perfect material for fast driving. Suitable for shorter races and track races.
The average hardness of material is pleasant to the pedal. If you only need power shutdown, the choice of material. Blocks Bluestuff day intermediate category.
Blocks Bluestuff day of intermediate quality or Bluestuff ndx is a sport and high friction racing material that can be used for aggressive driving in the street and some types of track use. The material has been very successful on the track with quality replacement brackets (multi-piston systems with greater freedom and better cooling and larger rotors) and limited success with street calipers where the size of platelets and the drag of the caliper brake can defy any material. The biggest advantage of ebc pads Bluestuff day intermediate quality track or Bluestuff ndx is their bite from cold and progressive brake feel and the ability to bring a car to a complete stop.
This led to the approval of the safety regulation of brake ece r90 r90 is now complete and certificates are obtained (in July 2011). There are some former street calipers systems where even the new blocks of intermediate category of Bluestuff day will struggle to manage c Trail Aliper and inherent cursor to the systems but this scenario is exactly the same for our competitors. There is no equipment to be perfect on the track in all the ancient streets of stirrups based systems. Brake pads ebc orangestuff full race. During his third year of use, the orangestuff made turned out to be an excellent solution for use in medium / long run as its famous quality stable companion Yellowstuff brake pads and a great way to hunt pad for driving over rough terrain.
Quick Reads using pre-burnt areas in the factory. Damage to the rotor / disc reduced.
Effective cold making this usable material Street. Ebc manufactures the majority of its motor rotors, including high-end brake discs in the UK or in Europe. Apart from these sources where castings or finished rotors must be purchased to complement the range, the most strict quality controls are applied to ensure the safety and quality of parts we sell.
All castings suppliers for ebc group are approved by ISO to the highest specification and have been visited and approved by the German authorities steamed. N adds value to its products by controls and the most stringent quality specifications and a 100% control of exhaustion and dimensions, including analysis of the elements, surface finish and hardness tests each lot and inspection of runout. All sports rotors are grooved and slotted in the factory of Las Vegas in the United States or in our new facility rotor Northampton employing 32 people that has recently been improved to have its own qc department, machining facilities test and a new plant anticorrosion coating nitrotherm. We also do our utmost to embrace US employment and in our US facilities, we employ 14 people in our sole factory machining rotor.
Choose from non-drilled rotors or rotors ebc sport two choices - wide opening g sports series of rotors for cooler operation or new ultimax super silent rotor slots usr series. All ebc rotors including rotor slots usr are British-made and are precision machined in the UK. The rotors are made from gray cast iron high quality to exacting standards and undergo extensive testing and stringent quality control.
Slotted rotors can significantly improve the performance and durability of the brakes when used with a set of brake pads with high friction. After selling hundreds of thousands of sets of brakes, ebc brakes is convinced that their approach is as perfect as possible. We believe that the slotted rotors were \. Ew black geomet and nitrothermtm finish. Brakes ebc now produce all records of the g series usr with a new resistant finish for long-term corrosion.
The coating is either the world famous geomet or less popular for small lots, we use the new process nitrotherm anticorrosion paint applied using this revolutionary process that coats hot nitrogen produces a better finish. In 2014, the old discs gd series of gold will be removed.
Ebc recommends using premium buffer such as brake pads or brake pads Redstuff Yellowstuff to complement your new rotors usr slots that provide the optimal balance of life and performance. Ebc manufactures 90% of its range of rotors in ISO approved facilities and tüv in the UK or Italy, all rotors including sports g of rotors are machined and finished in the uk and the us. When castings or finished rotors were purchased to complement the range, the most stringent quality controls you can imagine guarantee the safety and quality of parts we sell. Ebc adds value to its products by controls and the most stringent quality specifications and a 100% control of exhaustion and dimensions.
We employ 14 people in our rotor machining factory in the United States and have a bank of 8 machines and cnc haas feeler using the latest CNC controls and tools for exceptional accuracy. New black finish and geomet nitrotherm. The coating is either the world famous geomet or less popular for small lots, we use the new process nitrotherm anticorrosion paint applied with this revolutionary process that coats hot nitrogen produces a better finish. The disc blade bsd is made from a unique material called \Manufactured in the UK, the bsd disk is available for mounting the front and rear. The unique design of the slot blade created eliminates the hot gases from the braking area of ​​a fast and efficient way much more than a one-way slot.
This helps to keep the flattest pads and freshest brakes. The function of multiple overlapping slots reduces the noise of the brake wind. The range of initial launch of blade discs covers 80% of the European market for vehicle brakes sport. Used in conjunction with brake pads ebc greenstuff or sellers brake pads or brake Redstuff Yellowstuff top performer style = arget = \ For more details on the delivery options available to us and costs, please click here. For more details on our return policy, please click here.
Do not hesitate to contact us to discuss any subject you might have a question. We are proud to quality service and we are happy to answer all your concerns. Add our shop to your favorites and receive email newsletters about new items and special offers. \The seller is \This article can be shipped worldwide.
brand: ebc brakes <\/ li>
manufacturer part number: gd1340 <\/ li> <\/ Ul>